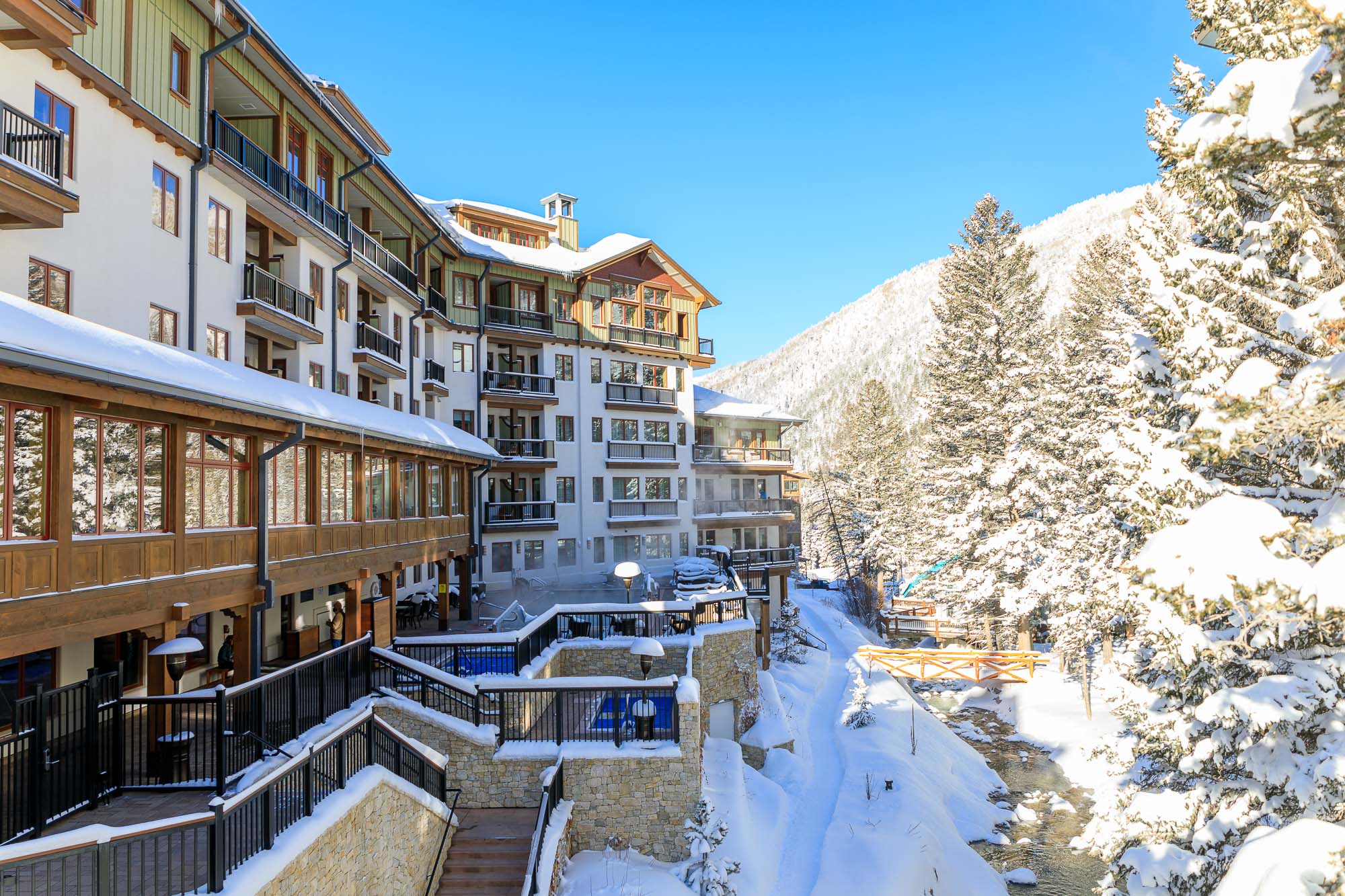 Want a New Home Near A World Class Ski Resort?
We think of Taos Ski Valley as the best skiing in North America, period.
The resort has peaks as high as 12,481 feet and 110 runs, ranging from rugged terrain to gentle slopes. The village is an endearing mix of European charm and Southwestern heritage. The lift lines are short, the pacing is relaxed, but don't be fooled—the skiing is excellent, and over half of it is expert-level.
Taos Ski Valley: The Story Behind The Southwest's Best Skiing. Learn More About Custom Building in Taos Ski Valley
Taos Ski Valley was founded by a Swiss German immigrant, Ernie Blake (originally Bloch). He grew up in Switzerland and was a1936 Olympic downhill skiing hopeful, living in Germany when pogroms began. Ernie fled to the US and met his wife, Rhoda, on the Vermont ski slopes in 1940. He followed her to Santa Fe, where she was an art student. Soon he was running a ski area.
As World War II raged, Ernie worked with the US Army to interrogate Nazis. A decade later, while flying over the Sangre de Cristo Mountains, he discovered the area that would become Taos Ski Valley.
He and Rhoda and their three children moved into a camper on-site, while they developed the resort in the tradition of European ski villages. In 1956, the first season of Taos Ski Valley, there was just one run, called Snakedance.
A local real estate family, the Pattisons, owned much of the land in Taos Ski Valley. As Ernie developed the resort, the Pattisons developed the village for homes and lodging. Now the area has multiple lodges, dozens of luxury homes, and everything from donut stands to high end dining. Taos Ski Valley has added much more than 100 runs in the past six decades.
Factors To Consider When Building a New Home in Taos Ski Valley
In addition to living near one of the most unique and best ski resorts in North America, a home in Taos Ski Valley means you have access to all the cultural amenities of Taos.
But living in Taos Ski Valley is not for the faint of heart. The elevation ranges from 9,000-12,000, feet, while the rest of Taos is only about 6,500-7,500 feet. It may be sunny and warm in the city of Taos, while Taos Ski Valley is getting six feet of snowfall.
Before you build a home in Taos Ski Valley, you need to consider:
Access
Constructability
Utilities
Snow removal
Budget
Building season
Will You Buy a Vacant Lot or a Taos Ski Valley Tear-Down?
Much of the prime property in Taos Ski Valley was purchased in the resort's early years. In the 60s and 70s, people built affordable cabins on extraordinary parcels. Some of these parcels still have crumbling, poorly insulated, cabins.
The good news is, these parcels have access roads and utility set-ups. The bad news is, before you can build, you'll probably have to spend a little time and money demolishing the existing structure.
You're Building To Be Near The Best Skiing. Is Ski-In a Must?
For many property-owners building in Taos Ski Valley, the dream is a ski-in home. This means you can step out of your door, strap on your skis, and hit the slopes. You don't have to drive to the resort, find parking, and walk to the lift. Sounds amazing right?
And it is. But you'll pay for the convenience these lots offer. For example, you may pay $200,000 for a one acre lot that's right next to the slopes, but that isn't ski-in. And you may pay over twice that for a ski-in lot a third of its size.
The Best Skiing Doesn't Always Come With The Best Roads
When scouting property in Taos Ski Valley, consider access. Is there already a road that leads to the lot? If so, does it belong to your property, or is it your neighbor's private road? If it's your neighbor's road, you may have to pay for access rights.
If there is no road, you'll have to build it yourself. Because of the incline and rocky terrain, building an access road can be a big, expensive project.
The Best Skiing Don't Always Come With The Best Utilities, Either
To be fair, much of Taos Ski Valley has solid utility infrastructure. I'm not sure how it got there, since some of these lots don't have access roads, but our local electric co-op made it happen.
However, if the property you're interested in doesn't have utility infrastructure, you may have to build it yourself. I have friends who bought a property with gorgeous views at rock bottom prices. The property had been on the market for years, and they discovered why when they realized how much they'll have to spend to make it livable. Click here to read more about selecting a lot.
You may have to pay the co-op to bring electricity to you. If there's no water infrastructure, you may have to dig a well. You may need to use a propane tank for heat and sewage via a septic system.
I wasn't involved when my friends bought that gorgeous wilderness lot. I would have made sure they knew what they were getting into. Don't get stuck with a property where you're going to have to spend as much to develop as you will to build. Make sure you go into this process informed.
Construction Challenges in Taos Ski Valley
Before laying a foundation for a new home, you have to excavate a lot. This means removing soil and rocks from your building site. In a steep, rocky terrain such as Taos Ski Valley, this can be very tricky.
The foundation will also need to be highly engineered to handle these extreme conditions. Material deliveries are difficult when roads are steep and unpaved, and the home itself must be built to withstand extreme snow-load and weather conditions.
You can read more about the sustainable solutions I've come up with for some of my other Taos Ski Valley projects in this local news story.
The Best Skiing Requires The Best Snow
And the best snow requires a snow removal plan.
Before building in Taos Ski Valley, county officials require that you have a snow management plan. You will need to consider snow removal in other decisions you make, such as how to situate your new home on your property and where you put your access road. When you get over 300 inches of snow a year, snow removal is essential.
Taos Ski Valley is Not Budget Building
If you want to live near one of the best ski resorts, you're going to have to pay top dollar for it. Don't expect to build in Taos Ski Valley for under a million. It's just not a thing that happens.
Great Skiing, Short Building Season
Taos Ski Valley usually gets its first freeze in early September, and it stays snowy through the end of June. The building season here is short. Most new houses take at least two building seasons to complete, and some take three. Sometimes we can shave off a few months (or a whole season!) by building huge parts of the home somewhere down the mountain, and transporting them to the construction site. But just know, if you are custom building in Taos Ski Valley, you have to be patient.
Building in Taos Ski Valley Seems Hard—Why Bother?
First off, I love a challenge. For this reason, Taos Ski Valley is one of my favorite places to build. Building under easy conditions is nice sometimes, but if that's all you do, it's boring. But you're probably more interested in what's in this for you, right?
Taos Ski Valley Has Some of The Most Diverse Terrain in North America
If you're into the best skiing, there's no better place to be. Because we're at such a high altitude, Taos Ski Valley is quality powder. It's light and dry, and our slopes require the kind of technical maneuvering that separates the novice from the expert.
Don't get me wrong—there's plenty here to keep a beginner entertained and inspired. (And if you want to up your game, Taos has an award-winning ski school.)
However, Taos Ski Valley doesn't have the name brand recognition of some other resorts—and that's a good thing. That means the lift lines are short, even though the skiing is more interesting.
Taos Ski Valley Has Plenty of Snow—And Cool, Clean Off Seasons
In the winter, Taos Ski Valley is a sparkling wonderland. But if you want a resort town you'll love year round, Taos Ski Valley offers lots of off-season outdoor fun.
You can mountain bike, horseback ride, hike, whitewater raft, rock climb, or fish. Or, if you're feeling lazy, you can just ride a chairlift to the top of Kachina Peak and take in the view from above 12,000 feet. Summer days stay in the mid-70s, so there's no melting under the desert sun.
Dining and Entertainment Options Abound in Taos Ski Valley
The Blake family ran Taos Ski Valley until 2014, making it one of the longest-held family ski resorts in the country. Then hedge fund billionaire and environmentalist Louis Bacon bought it, with the blessing of the Blake family and the goal to modernize amenities, while hewing closely to Blake's southwest-meets-chalet vision.
You won't find any single-use water bottles on this resort, which is nearly 25-percent solar-powered and uses geothermal heating and cooling.
There are many restaurants in the area, including the beloved Hotel Saint Bernard, which has been around since the 1960s and has a large, lodge-style fireplace that guests gather around and often, a pianist for entertainment. Other popular spots include The Bavarian, serving hearty German food and beer, with a deck overlooking the slopes, and the upscale, Euro-inspired Blonde Bear Tavern.
There are snowmobile tours, spa options, an ice skating rink that will transform into a summer music stage, a skybridge and no-experience-needed climbing course, and plenty of other entertainment options. The resort also plans special events, such as music and arts festivals, holiday celebrations, artists talks, and more.
Best Builder For Taos Ski Valley
If you're ready to build in one of the most charming, absolute best ski resort villages in the US, get in touch. I've built five houses up here in the past four years, which is more than any other builder. I know the terrain, the infrastructure, and the lots. I have the expertise to tackle the challenges that will definitely arise.
But if you ask me, Taos Ski Valley is worth all of those challenges and more. The views are unbeatable, the summers are perfect, and the resort is fantastic and getting even better.
Continue your Taos building education here: